August 6, 2019
Why The Oval Should Be on Your Summer Calendar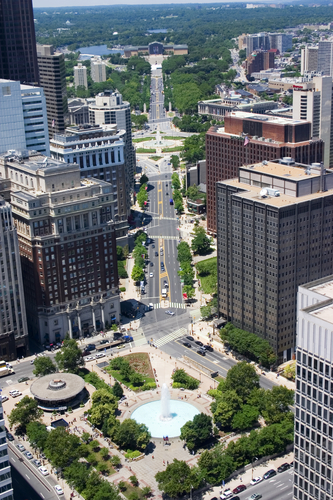 Pop-up beer gardens are all the rage in Philadelphia, with offerings like Parks on Tap and Pennsylvania Horticultural Society bringing temporary social spaces to spots throughout the city, including in locales near your Dalian on the Park apartment. If you really don't want to travel far from home for some outdoor fun this summer, consider a trip to The Oval—a pop-up experience offering a beer garden and much more!
The Oval opened mid-July and will be in operation through Aug. 18, with all the fun set up along the Benjamin Franklin Parkway, just three blocks from your Dalian on the Park apartment. Just what can you find at The Oval? It may make more sense to ask what you can't find! The space features an interactive art installation, a maze, mini golf, ping-pong tables, lawn games and lots of life-sized, family-friendly games, such as Legos and Connect Four. Relax in comfy chairs and take in the transformed section of the Parkway, featuring spectacular views of the city skyline. Even better, kick back with a local brew from the beer garden, which is open evenings from Wednesday-Friday and all day on weekends.
Each day of the week also features special programming, such as free fitness classes on Wednesdays and arts activities on Thursdays, including live music and dance performances. On Fridays, dive into snacks from local food trucks and stick around for nighttime movie screenings. Saturday evenings feature Quizzo games, and Sunday has a family focus, with lots of kid-friendly activities. And the best part? It's all totally free!
No matter what kind of summer fun you're looking for, you'll find it at The Oval. But hurry—you only have a few more weeks to take in all that the space has to offer!
2451 Benjamin Franklin Parkway
Philadelphia, PA 19103
215-607-3477
Back To Blog ←