October 27, 2018
3 Spots for Great Fall Foliage in Philly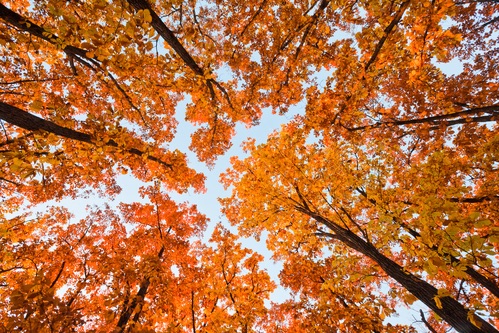 The nation's fifth-largest city may not come to mind when you're thinking about spots to find beautiful fall foliage—but Philadelphia is brimming with lush and leafy areas whose colors come to life as soon as autumn hits. From expansive parks to city squares and everything in between, fall in the city is an eye-opening—and eye-catching!—experience. Even right here amid the skyscrapers in Center City near your Dalian on the Park apartment, you only have to walk a few blocks to be surrounded by the reds, golds, greens and every other shade under the fall sun.
Fall foliage can provide the perfect backdrop for a weekend picnic with your sweetheart, a heart-pumping jog or a casual stroll by yourself to recharge after work. No matter what you're looking for from nature, here are the best spots near your Dalian on the Park apartment to find it:
Benjamin Franklin Parkway: The parkway, just one block from your Dalian on the Park apartment, is one of the city's main corridors. It is home to scores of arts and cultural centers and has played host to some of the city's most well-known events, including concerts and the annual Independence Day celebration. When the weather turns cooler, it becomes a magnet for nature lovers, as brightly colored trees line both sides of the expansive parkway and its many medians. The parkway is marking its 100th anniversary this year, so make sure to stop by and see it in all its celebratory splendor.
East Fairmount Park: About six blocks from your Dalian on the Park apartment, East Fairmount Park provides endless opportunities for viewing fall foliage. Hike, bike or jog the trails to explore the massive green space right in the middle of the city. The sheer size of the park means that, on each visit, you can find new paths and new opportunities to appreciate autumn.
Cliffs Mansion Meadow: If you're looking for a unique vantage point for some fall beauty, head to Cliffs Mansion Meadow, about two miles from your Dalian on the Park apartment. The historic and now deteriorated farmhouse is a dream for urban explorers, and the meadow's rolling hills provide a beautiful backdrop for an afternoon spent lounging in the grass with a good book.
18th Street and Benjamin Franklin Parkway
Philadelphia, PA 19103
Reservoir Drive
Philadelphia, PA 19119
Cliffs Mansion Meadow
33rd and Oxford streets
Philadelphia, PA 19121
Back To Blog ←
TAGS : dalian on the park, fall foliage, philly