July 11, 2018
What's on Screen at Schuylkill Banks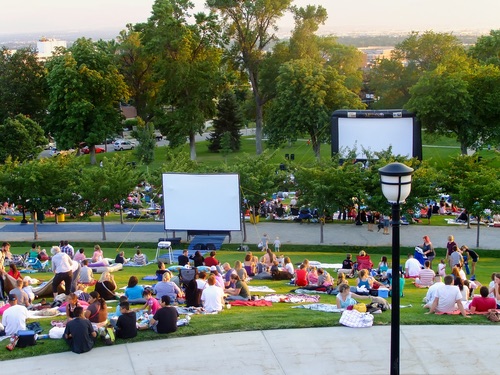 You don't have to drive out to the middle of the state (or back in time!) for a drive-in movie-like experience! Schuylkill Banks, about a mile from your Dalian on the Park apartment, offers open-air screenings right near home, and you don't even need four wheels!
On Thursday nights all summer, the park bordering the Schuylkill River features movies on a jumbo screen. As soon as the sun sets, the curtain comes up on the films, which range from classic to kids to new releases. Moviegoers are encouraged to bring blankets and picnic baskets so they can really settle in—don't forget the popcorn! Here's a rundown of what's coming to a theater near you:
July 12: The timeless "Casablanca," part love story and part thriller, kicks off the post-July 4th fun.
July 19: Next up is new Disney flick "Coco," which will be popular with viewers of all ages.
July 26: The island-based hit with the award-winning soundtrack, "Moana," will have you singing all the way home.
2: Next up is "Black Panther," the smash superhero hit that broke tons of records earlier this year.
9: Philadelphia Eagles fans can't miss "Silver Linings Playbook," the locally filmed and set flick starring Philly favorite and native Bradley Cooper.
23: The classic dinosaur film, "Jurassic Park," closes out the season with a roar.
Going to the movies today can be an expensive endeavor but at your Dalian on the Park apartment, it doesn't have to be. In fact, you don't have to spend a cent! All movie screenings at Schuylkill Banks are completely free of charge, which makes the outing even more enjoyable! The event typically draws hundreds of moviegoers, meaning that before and after the show you can mix and mingle with your neighbors, all with the beautiful backdrop of the city skyline and the Schuylkill Rivver.
See you at the movies!
2401 Walnut St.
Philadelphia, PA 19103
215-309-5523
Back To Blog ←
TAGS : outdoor movies, Schuylkill Banks