July 22, 2018
Where to Find the Best Farmer's Markets in the Area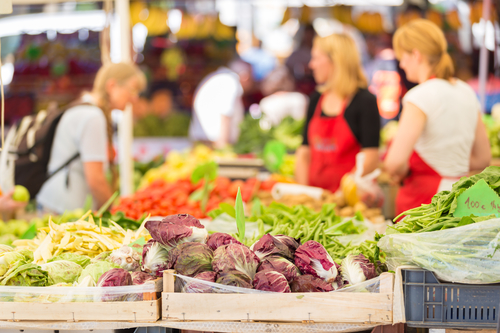 One of the staples of the summertime is local farmer's markets, and the area around your Dalian on the Park apartment is full of them!
Sure, you can grab fresh produce and other tasty treats at the local supermarket, but there's something even more satisfying about knowing that your food purchase is as fresh as can be, and went to support local farmers. That's not to mention the fun that can be had from wandering around a farmer's market! Being surrounded by other foodies can introduce you to new recipes and kitchen inspirations, while you get to mix and mingle with neighbors with similar interests and learn about the local farming community and food vendors.
Here are some great summer farmer's markets to get your creative culinary juices flowing:
Fairmount Farmer's Market: From 3 p.m.-7 p.m. every Thursday, head to Fairmount Farmer's Market, three blocks from your Dalian on the Park apartment, to get your hands on some fresh and locally sourced ingredients to have you whipping up homecooked meals all weekend! From fruits and veggies to baked goods to every Philly resident's favorite—soft pretzels—the range of options is immense. The market is set up along the bustling Fairmount Avenue, so as you're stocking up on your fresh food, you can also stop in to local shops to get a taste of the booming arts and culture in the area.
University Square Farmer's Market: Located on the campus of the University of Pennsylvania, about 1.5 miles from your Dalian on the Park apartment, University Square Market is open from 10 a.m.-5 p.m. every Wednesday. Here you'll find baked goods, gourmet chocolates and candies, a range of fresh plants and flowers and even a new creamery.
Cecil B. Moore Farmer's Market: Headquartered near Temple University, this market, about 1.5 miles from your Dalian on the Park apartment, is a perfect example of a successful urban farmer's market. The event, held from 2 p.m.-6 p.m. on Tuesdays, attracts a good mixture of students, local residents and visitors to enjoy everything from organic soaps made at a Central Pennsylvania farm to fruits and veggies grown in an inner-city community garden.
22nd Street and Fairmount Avenue
Philadelphia, PA 19130
University Square Farmer's Market
36th and Walnut streets
Philadelphia, PA 19104
Cecil B. Moore Farmer's Market
Cecil B. Moore Avenue and North Broad Street
Philadelphia, PA 19122
Back To Blog ←
TAGS : fairmount, farmers markets, philadelphia, summer