April 2, 2018
Spring into Action at Dilworth Park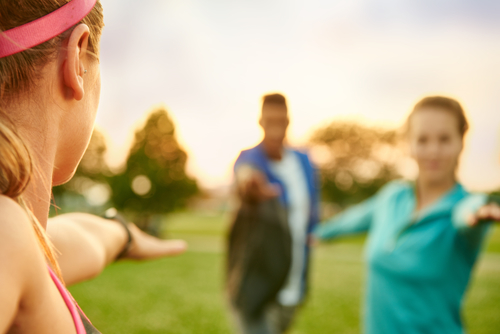 If you're looking for a new way to break yourself out of your winter slump now that the sunshine has returned, Dilworth Park, one mile from your Dalian on the Park apartment, has you covered.
From April 3-May 24, locals can get toned (and maybe even a little tanned!) at free outdoor Spring-Training sessions at Dilworth Park, located in the shadow of City Hall. Here's the skinny: The park has teamed up with trainers from Optimal Sport Health Clubs, who will lead group-fitness classes covering a range of exercises to help locals put a little bit of pep in their step this spring. After a long winter of lounging on the couch at your Dalian on the Park apartment, you may be struggling to get back to the gym or to pound the pavement at Fairmount Park, so an organized and structured (not to mention, free!) set of classes might be just the ticket.
Featured classes are yoga, running, Zumba and boot camp, which includes a range of heart-pumping, high-energy workout routines. Participants of all ages, shapes and sizes are welcomed, and encouraged; the sessions are designed so that those of all athletic abilities can perform the workouts at a pace and in a way that is comfortable for them. The one-hour sessions are held several days a week and at differing times so, no matter your schedule, you'll be able to fit in a quick workout.
Working out in the gym is one thing, but getting your heart rate up with hundreds of other Philadelphians in the footprint of the city's most iconic building takes exercise to a whole different level. Dilworth Park is a community gathering space throughout the year and, now that its famed winter wonderland has wrapped up for the year, it's time to see the park in a whole new light!
1 S. 15th St.
Philadelphia, PA 19102
215-440-5500
Back To Blog ←
TAGS : dilworth park, spring, working out