August 17, 2017
Five Ways to Cool Off in the Art Museum Area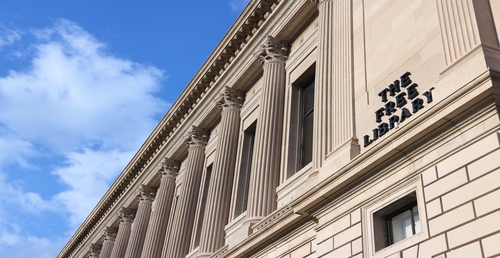 August in Philly is no joke.
We're in the dog days of summer, where temps are soaring but hibernating inside can get boring. Fortunately, your Dalian on the Park apartment is within striking distance of tons of awesome indoor and shady outdoor activities to keep you cool and having fun this summer.
Schuylkill River Trail — If you want to get some exercise, head over to the Schuylkill River Trail, about 1.5 miles from your Dalian on the Park apartment. Popular with runners, bikers and rollerbladers, the trail runs right along the river, so you get plenty of cool breezes while you work out. You can also chill out along the Schuylkill Banks Boardwalk, a 15-foot-wide pathway that takes visitors right over the water for some picturesque relaxation.
Free Library of Philadelphia — The headquarters of the city's massive pubic-library system is located just three blocks from your Dalian on the Park apartment. The Parkway Central Library can provide endless hours of education and entertainment; apartment from its unparalleled book collection, the library hosts book readings, interactive activities, health and wellness events and more.
Azalea Garden — Behind the Philadelphia Museum of Art is a secret garden of sorts. The Azalea Garden, about a mile from your Dalian on the Park apartment, is nestled between the Schuylkill River and the Philadelphia Museum of Art, a little nook that provides a picturesque respite from the sun.
Fairmount Water Works — Located on the banks of the river, about a mile from your Dalian on the Park apartment, the Water Works tells a neat story about Philly's past. Founded to provide clean water at the height of the Yellow Fever epidemic, the building also offers environmental-education programs and awesome architectural views.
Eastern State Penitentiary — Cool down in the stone hallways of the historic prison, open for tours year-round. Visitors can get a firsthand look at what life was like in the 19th-century facility, from exploring archival materials to stepping into the cells, including that of its most famous inmate, Al Capone.
2501 Walnut Street
Philadelphia, PA
215-309-5523
1901 Vine Street
Philadelphia, PA 19103
215-686-5322
2600 Benjamin Franklin Parkway
Philadelphia, PA 19130
640 Waterworks Drive
Philadelphia, PA 19130
215-685-0723
2027 Fairmount Avenue
Philadelphia, PA 19130
215-236-3300
Back To Blog ←
TAGS : art museum area, philadelphia, summer