April 4, 2017
Gates Closing Soon on "Jurassic World" in Philly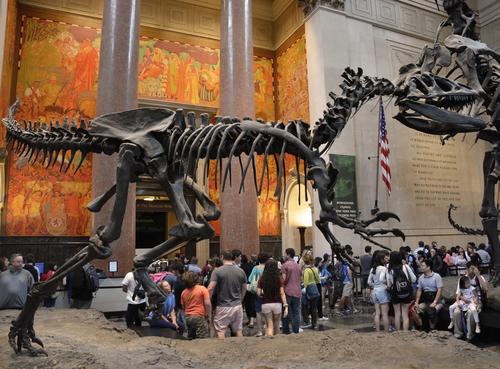 While "Jurassic Park" and its sequels brought dinosaurs to life on the big screen, an exhibit in Philly is bringing them to life right before our eyes.
"Jurassic World: The Exhibition" at Franklin Institute recreates the magic of the movies, adding a dose of education to your entertainment. The world-renowned, all-ages science museum, located just two blocks from your Dalian on the Park apartment, opened the dino-themed exhibit in the fall — and it closes April 23, so don't miss your chance for this action-packed adventure!
The exhibit transports guests to Isla Nublar, the fictitious island featured in the films, where scientists successfully cloned pre-historic dinosaurs. You can walk among the larger-than-life creatures, including a 24-foot Brachiosaurus and a towering Tyrannosaurus-Rex. Enter the Raptor Pad for an intense training session and even stroke a Pachyrhinosaurus in the Gentle Giants Petting Zoo.
The animatronic wonders were crafted with input by Jack Horner, the paleontologist who was the behind-the-scenes mastermind of the "Jurassic" films.
Your stroll among the dinos is enhanced by the science lessons you pick up along the way (it is a museum, after all!). Throughout the exhibit, visitors can learn all about the different types of dinosaurs as their protoypes graze and gallop around them.
"Jurassic World" is an exciting, eye-opening experience — for kids of all ages.
222 N. 20th St.
215-448-1200
Back To Blog ←
TAGS : franklin institute, jurassic world, philadelphia