November 3, 2016
Local Learning Hub – Parkway Central Library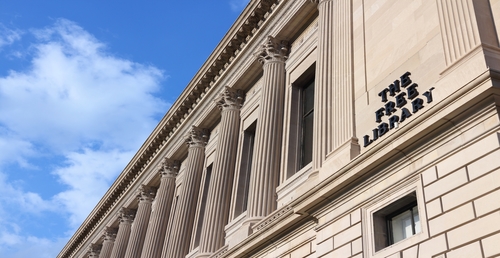 An incredible resource for education and information is within mere steps from your new apartment. The Philadelphia Public Library, the Parkway Central Branch located on 19th and Vine streets, is your local branch and is only about an 8 minute walk or a 4 minute drive from the Dalian on the Park. The Parkway Central branch boasts the largest archive of books and publications in the city, infinite online resources, and free wifi. Did you also know that there are daily educational and enriching events happening at the Parkway Branch, the majority of which are free and open to the public?
With the weather about to take a turn for colder temps, it pays to know that there is a fun place to go outside of home where educational options abound for everyone. During an average week at the Parkway Central Branch, there are numerous story time events for babies, toddlers, and preschoolers, the majority of which are free of charge. The library also hosts classes and courses for older kids and teens, free concerts, and even some fun workshops to check out.
The Parkway Central branch is open Monday through Thursday from 9am to 9pm, Friday from 9am to 6pm, Saturday from 9am to 5pm, and Sunday from 1pm to 5pm. For more information on events, readings, classes and more, click here.
1901 Vine St
Philadelphia, PA 19103
Back To Blog ←
TAGS : classes, education, learning, library, park central library, workshops