August 22, 2016
Philly's RiverRink Summerfest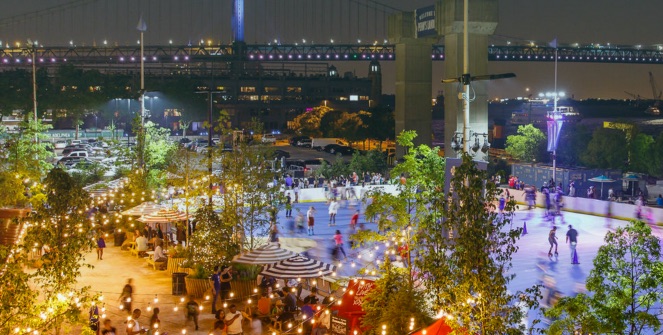 Summer is rapidly coming to a close. For those who are staying local and are looking for something fun to do in the city, why not get the sun and sand of the beach, the yummy treats of the boardwalk, and the fun of a roller rink all without leaving the city limits?
RiverRink Summerfest is a great way to culminate the end of summer. Enjoy the main attraction, a giant outdoor roller skating rink with friends and family. You can bring your own skates or rent both roller skates and in-line skates for $10 a pair. Admission to the rink is $3 or free for Independence Blue Cross cardholders.
Another fun feature of the Summerfest is the nine-hole mini-golf course located conveniently right next to the roller rink. A new feature of Summerfest, each of the holes were designed using recycled materials by local artists. Mini-golf will run you just $5/person each game.
After you've skated and golfed, relax on the Urban Beach area. Chill out in the shade beneath your own umbrella or soak in the sun on the sand as you overlook the Delaware.
September 5th is the last day to enjoy this new Philadelphian summer staple. This pop up Rink and attractions are the perfect way to wrap the summer while staying in the city.
River Rink Summer Fest is located at 101 Columbus Boulevard
Open Monday-Thursday, 1-11 p.m., Friday & Saturday, 11-1 a.m.; Sunday, 11 a.m.-11 p.m
Back To Blog ←
TAGS : mini golf, riverrink summerfest, roller skating, summer, urban beach